About us
Green Suites Hotel was created out of the vision to provide the most ecologically friendly green hotel in Athens. Newly constructed, our hotel aspires to pave the way for a more sustainable hospitality model. By paying attention to every detail, it ensures that everything, from materials to processes especially , is eco-friendly. Besides our eco-features listed below, we also greatly emphasize in sustainable practices. In Green Suites, we believe that luxury does not necessarily equal sacrificing the environment. Human living can go hand-in-hand with our planet.
Above all, our mission is to create the first eco-friendly hotel in Greece, offering our guests unique accommodation experiences. Moreover, our vision is to make our planet a better place and become the leaders of a new, "home" era. Finally, across all our eco-luxury rooms and suites, we aim to cultivate a soothing environment in which relaxation comes naturally. From the arrangement of  spaces, to the decoration elements, at Green Suites you can expect a stay experience that will remain unforgettable.
Our ecological adherence & practices
The hotel is designed & constructed according to the latest energy performance directive that prescribes zero-energy by 2020.
Last but not least, below are some of the features that we incorporate here in Green Suites, resulting in a fully compliant energy building for 2020.
– Photovoltaic systems
– Solar mirrors
– Energy saving glazing
– Building exterior insulation layer
– Basement lighting with solar tubes
– Carbon Dioxide sensors
– LED light fixtures
– Independent electricity meters
– Heat pumps
– Inverter cooling system
– Eco-friendly paint
– Biodegradable products
– Recovery of rainwater for reuse
– Movement sensors
Policies
Kindly note that as our hotel is a business/couples hotel, it can accommodate only children above 12 years old.
Our pool is seasonal, operating only during summer months (April-October). The opening and closure dates are indicative, as they depend on each year's weather.
Our guests enjoy the advantage of our paid underground parking, for which a reservation is required, as well as additional parking space next to the hotel with extra charge (both upon availability). The maximum height that can enter our parking is 1,95m and the maximum width 2,10m. For any other type of vehicle we kindly ask you to inform us about your vehicles' type and size.
The pool can be used upon 2-hour appointment, freely by residents, while for non-hotel-residents with an extra fee.The opening-closing dates vary each year according to the weather.Entrance to the pool and roof bar is allowed only for children over 12 years old.
Kindly note that pets are not allowed at our property.
Sightseeing
Agora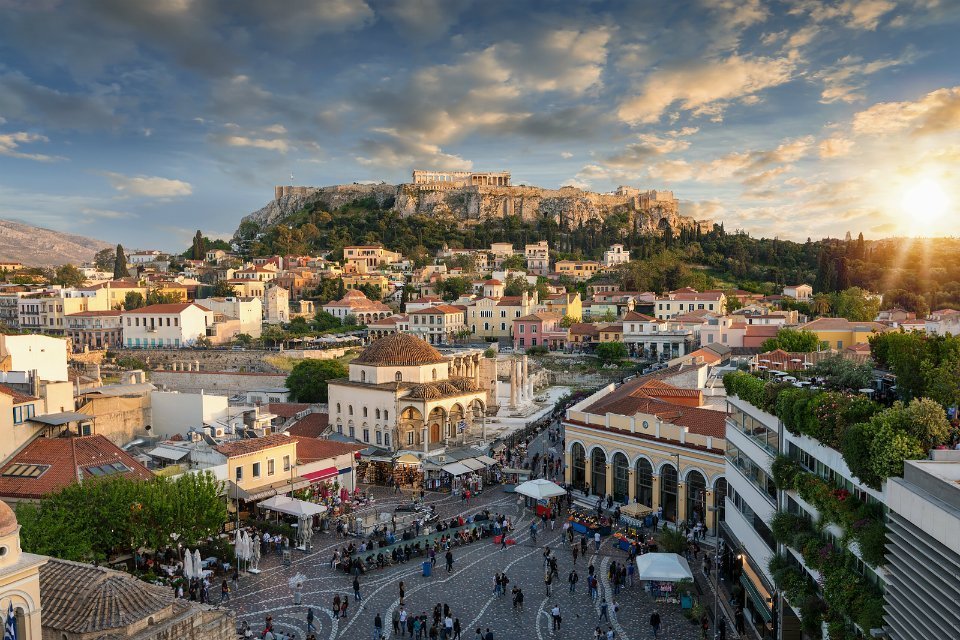 In ancient times "agora" meant a public place where people met to discuss and socialize. Today it means "shopping" and Athens, just like in ancient times, continues to live up to its word! The hectic, boisterous and colorful Athens Central Market –a.k.a Varvakeios Market- is in the historic triangle of Athens, in the middle between Omonoia and Monastiraki. Walking around in the indoor market is a sensory and gastronomic delight, featuring an amazing range of herbs, spices, cheeses, olives and other tasty Greek foods. The historic meat market, with hanging carcasses of various animals put on full display is for many tourists an attraction of its own. The tavernas in and around the market are also worth seeing.
Ermou street is Athens's main shopping street. A long pedestrian road which connects Syntagma square with Monastiraki, you'll find brand name department stores, quality souvenir shops and quaint local shops.
For high end shopping, try the Kolonaki district and Voukourestiou street. Expensive jewelry, exclusive boutique hotels and avant-garde fashion stores are all here, spread out around the steep streets of the district.
Museums and ancient Athens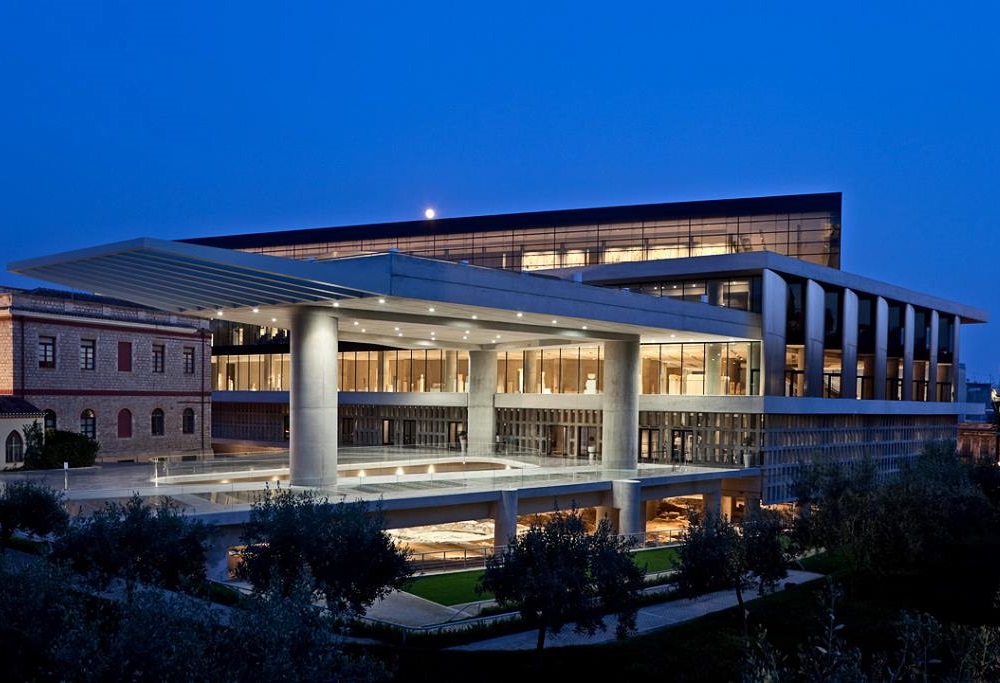 The Acropolis Museum is Greece's newest and most famous museum. Greeks are proud of this museum and rightfully so; it is a dazzling modernist structure with impressive displays artfully arranged by historic period. Operated for the public in 2009, the Acropolis Museum quickly became a must-see attraction for locals and visitors alike. It includes countless statues, friezes, artifacts and even objects used in everyday life in ancient times. Underneath its glass floor visitors can see the sanctuaries that had been built on the slopes of the Actopolis.
The National Archaeological Museum of Athens is not just Greece's largest museum but also one of the world's most important. Here you will find the world's biggest collection of Greek antiquities ranging in date from the Mycenaean to the Hellenistic age. Vases, amphorae, bronze and marble statues, rare epigraphs, even utensils and everyday objects from ancient history are all here for you to admire.
The Benaki Museum, unlike the previous museums, offers a more intimate experience. Housed in an historic neo-classical building in the city center, the museum was initially a private collection of the Benaki family which was donated to the Greek state in 1931. Unique examples of ceramics, sculpture and jewellery are included in its Geometric, Archaic, Classical, Hellenistic, Roman and Byzantine collections. The Benaki Museum is easily accessible either by Syntagma or Evaggelismos Metro stations.
The Goulandris Museum of Cycladic Art is dedicated to the history of ancient cultures of the Aegean and Cyprus, with special emphasis on Cycladic Art of the 3rd millennium BC. Founded in 1986 to house the collection of the Goulandris family, it has since then grown in size to accommodate new acquisitions, obtained either through direct purchases or through donations by important collectors and institutions. Located in Kolonaki square, it is easily reached from Syntagma Metro station.
The Numismatic Museum is one of the oldest in the city, founded in 1834, and displays important collections of coins, medals and precious stones from ancient Greece, Rome, Byzantium, the Ottoman period and modern Greece. The building is on Panepistimiou street, near the Syntagma and Panepistimiou metro stations. Its façade with arched verandas and Ionic columns makes it one of the most beautiful houses in Athens.
The Kerameikos Museum houses findings from excavations in Kerameikos, the ancient cemetery of Athens. Here you will find funerary urns, grave offerings and funerary monuments of exquisite taste and artistry, such as the Geometric urn amphora, the Amasis Lekythos and the Hydria by the painter Meidias with a multifigured scene. The museum is near the Kerameikos and Thissio stations.
MUNICIPAL GALLERY (FORMER SILK FACTORY)
The entirely renovated building of the Municipal Gallery at Metaxourgeio is one of Athens's oldest neoclassical structures, an iconic work of Danish architect Christian Hansen, famous designer of the city's "Neoclassical Trilogy" on Panespistimiou st. (Library – Academy – University). The building served as a silk-processing factory until 1875; its presence was so dominating that it gave its name to the neighborhood. Municipal authorities began renovation works on the abandoned building in 2007 in order to house important cultural events. Since 2010 it is home to the Municipal Gallery. Events lined up for the 2016-17 season include tributes to important Greek artists such as Theofrastos Triantafyllides ("One more Thirty for painting", October 14 – December 18) and Alekos Fasianos ("91 books with works of art by Alekos Fasianos", November 8 – January 8), an exhibition from the Greek Chamber of Visual Arts ("1950 – 1974, Visual Arts and Resistance", January 24 – March 12), and an exhibition from artist Maria Lassnig ("The future is created from the fragments of the past", March 31 – July 16).Municipal Gallery, Leonidiou & Myllerou, 210-3243022
Athens Riviera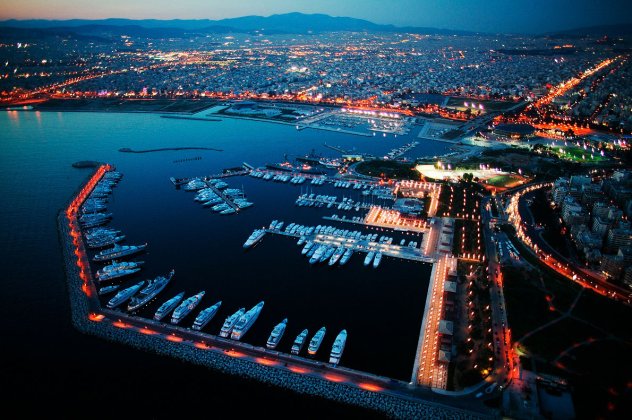 Athens is famous for many things, but surprisingly enough, not well-known for its coastline and sandy beaches. Yet, just 20 minutes south of the city, you'll find landscapes that rival those of any island in the Aegean Sea. If you have already visited all the famous attractions of Athens and still have a day left to explore, the Athens Riviera is definitely worth a visit.
Glyfada is generally considered the area where the metropolitan area ends and where the Riviera begins. Here you'll find posh cafes, high-class boutique stores and stylish tavernas serving fresh fish and Greek delicacies.After a short meal or coffee, you will want to rent a car to get to Cape Sounio, which is 47 kilometers away, and see all the various attractions in between.
Your first stop is Lake Vouliagmeni. Vouliagmeni means "sunken" in Greek and legend has it that a lost city fell into this deep lake, flanked by an immense limestone cave. Feel free to explore the depths of the lake, but you are most likely to find the place too serene for such adventures. The water is naturally kept at 24 degrees Celsius and is known for its healing properties, attracting those who seek comfort from rheumatism and arthritis.